Thoughts for Thursday is a discussion post mainly about book related things. It isn't every week, but we try to do it as often as possible.
As a disclaimer we are not hating on the authors or fans or anyone, there are just some books/series we don't like and probably won't continue.
Erika

Over the years I've started quite a few series and I've kept going with a lot of them, but some of them I either lost interest somewhere along the way or never had any interest in continuing. Some of them I might have even enjoyed the first book, but for some reason I never ended up picking the next one.


This book was so hyped back when I read it and I just don't get it! It's been awhile since I've read this book, but I remember disliking Noah and their relationship so much. There were some cringe-y lines and dialogue that made me enjoy the story less, mainly lines about Noah. Honestly, I thought Noah was a jerk and since a lot of this book was centered around the romance, I found myself not enjoying it. I understand why it's a popular book, but it wasn't for me. I debated reading the next book for awhile because I really enjoyed Mara's ability, but honestly I forgot about this series. Whoops.
Oh man I still remember some of the cringe worthy lines that happened courtesy of one of my least favorite characters, Anna. I couldn't get behind the romance. I thought Kaiden was a jerk. The worst part? I wanted to love this series so bad! I thought it was intriguing and I'm always down for a a good paranormal romance, but the characters were not what I was looking for. The dialogue was pretty cringe worthy too.
I actually really loved this series when it came out and I even read the second book, but when the third book came out I was in a reading slump so I never got around to it. And now I've heard that Maas destroyed Chaol and brought in a new guy, so my interest kinda went down. Also I'm multiple books behind now. Out of all of these, this one is definitely the one I'm more likely to continue, but honestly I think I'll stick with the author's other series.
This is yet another book that I just don't get the hype. I wasn't a fan of the characters and the story line wasn't interesting enough to me. The main reason I wouldn't continue this is because I'm not invested in any of the characters. I didn't find America very likeable and I found myself bored throughout a lot of the story, mainly because I found it so predictable. I wanted more surprise and twists, but the ending could've been predicted from reading the synopsis.
I didn't enjoy this book as much as other people seem to. The writing drove me crazy and I wasn't a fan of the main character. The romance was kind of predictable in the first book and I've had some of the rest of the series spoiled, so I don't really see a reason to continue it. I thought the premise was really interesting, but like most of these books the characters are what ruined the story for me. I'm definitely the kind of person that needs strong, realistic characters in order to really enjoy a book.


Nikki
(Sorry, no review links in my portion. These readings occurred pre-Living For the Books)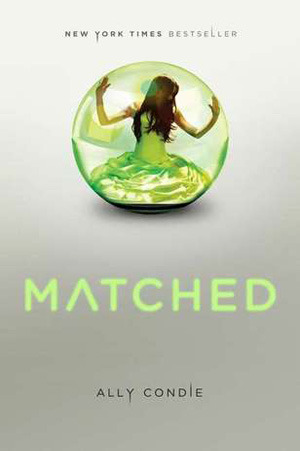 Matched by Ally Condie
I was so neutral after finishing this book. I'm pretty much never neutral about anything! I picked up the book because it had a pretty cover. The book to me was just bland and the writer didn't do a good job getting me to care about the characters. I normally either really like a book, or am angry about what I just read. The point of an author is to illicit at least *some* sort of emotion. The world building was alright, I didn't dislike the love triangle, just didn't care enough to continue.

Twilight by Stephanie Meyer
I read the first three books and... just didn't pick up the finale? I started reading when there was all the hype surrounding these books and while I found the world building interesting, I just couldn't get myself to pick up Breaking Dawn. Probably for the best considering all that creepy imprinting between Jacob and Bella's daughter? Didn't watch past the second movie I think.
The Merchant of Death by D. J. McHale
Honestly I loved the Pendragon series and would 100% recommend it to everyone. It involves a secret group of world travelers to save each of the individual realms in order to protect reality and the characters are pretty cool and complex. I will never finish this series because I was reading them from the library years ago, the library had one of the middle books already checked out, and I was so into it that I didn't want to pause so I kinda just skipped that book and continued reading what the library had... I'll never go back and read that middle book and so it gets added to the list of series I will never finish.
The Angel Experiment by James Patterson
This is a series that started strong with a really cool plot and character concepts that just fizzled out for me. It was pretty popular and I thought it deserved the hype for the longest time. I just devoured the first 5 books and here we are, 7 years after Fang, Maximum Ride #6, was published and I still haven't read it. I just don't think I can get back into this series and finish it. I felt the same way about Cassandra Clare's books, but unlike Maximum ride I own all of Clare's books so I feel obligated to read them and catch up at some point (plus Erika highly recommended Cassandra Clare which is why I own them).
Dark Breaks the Dawn by Sara B. Larson
Sure, it's only a duology, but this book just wasn't what I expected it to be. The main character has an affinity for swans, but I'm not really feeling how it's a 'Swan Lake retelling'. I'm not really into the insta-attraction between Evelayn and Tanvir either and I needed more background about the war and the two kingdom's relations before the war, so it's just generally been a let down. The hype for this book was intense and the cover was gorgeous but I don't think I'll ever get around to reading the sequel.
Are any of these series worth picking up again? Do you have any series that you won't finish?